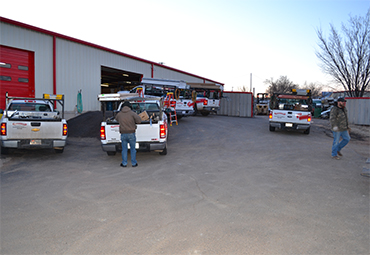 Do you have resources for architects?
Yes. Visit our Architect's Corner, for technical and specification information on our commercial and residential products. This tool allows you to download full product specifications, CAD drawings, BIM models, and product brochures with a few simple clicks.
Garage door owner manuals are located under the support section on our website.
What are the standard sizes of Overhead Door's residential garage doors?
Our doors range from 8′ wide to 20′ wide (in 1 ft. increments). Standard heights are 7′ and 8′ tall. Odd-heights and odd-widths are also available and vary by individual door series.
Can my garage door be painted?
Many of our residential garage doors can be painted. Please see your owner's manual for specific painting instructions. In addition, most of our commercial doors can be powder coated. We offer 197 powder coat colors to best complement the look of your home or your facility.
Can I replace a section of my door, or do I need to replace the whole door?
Yes, replacing only a section of your garage door is possible in some cases; however, depending upon the damage involved, the entire door may need to be replaced.
What maintenance does my garage door require?
Our garage door systems are built for long-lasting performance and daily use, but we recommend inspecting your garage door annually. If you suspect a problem, we can conduct a thorough evaluation and perform routine maintenance. Read our blog article about garage door maintenance.
I have a low ceiling in my garage. Will a garage door and opener work in this space?
Yes. A residential garage door requires a minimum of 4 1/2" of headroom space. Your garage door system may need a low-headroom track system or a low-headroom-torsion rear-track system. For a garage door opener, you will need slightly more headroom (about 6 1/2" minimum).
Can my non-insulated door be insulated?
Yes, we have insulation kits available to add insulation to your existing garage door.
What garage door best complements my home's architecture?
Overhead Door's wide selection of designs provides a variety of garage doors to complement any architectural style. Use DoorView®, our online visualization tool, to upload a photo of your home and select the right garage door for you.
What residential garage door is the longest lasting?
Garage door warranty information can be found on our website.